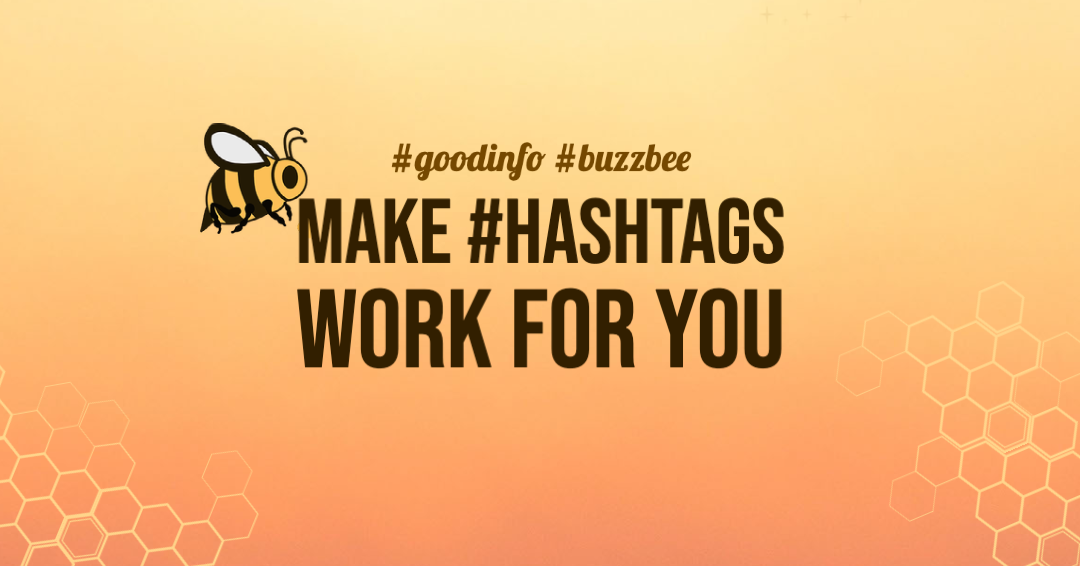 13 Apr

How to make hashtags work for your business

Hashtags: single words or phrases prefaced with a pound sign. When tapped or clicked, the hashtag acts as a keyword, taking you to a platform's search function where any and all media with the same tagged word is shown. They are powerful, yet they are often underutilized. When used correctly, a hashtag can significantly increase a post's reach. When it comes to strategically hashtagging your posts on Instagram, we recommend doing your research. A mix of general and specific hashtags will help you reach a wider audience. We go with location, industry, and subject tags to drive engagement and expose our client's posts to their ideal audience.
How should hashtags be used for social media marketing?
Caption or comment?
Some people will tell you that your hashtags should go in your post caption. Others will say always put them in the comments section. It doesn't really matter which section you are placing them in, as long as you are using them. Keeping them in the comments gives you a cleaner-looking caption, but you end up having to do extra work by commenting on your own posts just to include captions. Those looking to save a little time and want to add them along with the caption should keep aesthetics in mind, and consider adding a line break or two to separate important marketing or educational messages from a block of tags used for increasing engagement.
Use hashtags related to your niche and post.
There are a lot of people out there using hashtags without any real plan of action. Think of your ideal audience. What words would they use to find content such as yours? If you are a small business in a tourist town, you may want to include tags specific to your location and your products or services for vacationers to find you. If you are posting vegetarian recipes, you should use tags with ingredient names or terms related to the vegetarian diet. An example of a broad and distinct hashtag strategy could be a Florida state park posting a sunset photo using a mixture of specific tags such as #keylargosights or #floridakeyssunset paired with broader terms such as #vacationvibes or #paradisefound.
Do your hashtag research.
How does one research a hashtag? In most social media platform search boxes, there is an option to search by hashtag. When trying to decide which tags to use, it's helpful to see if they are popular or not. Let's say you have a surf shop in South Florida, and you want to post a photo of the new Lost Surf Boards you acquired. The terms #beach and #surfboard are very popular, but they have been used by millions of people. If you use only those tags, chances are your posts will not be seen. Additionally, they are pretty vague. Terms such as #Floridasurf or #lostsurfboards still have several thousand tags, but not millions. They are more specific to your business, and will likely generate views from your target audience. We recommend finding hashtags that have been used between 50k and 500k times.
Hashtags can be used in Instagram stories.
Many are unaware that up to 11 hashtags can be used in Instagram's story mode. This will help increase your story and profile reach.
Copy and paste hashtags on the same post do nothing for your marketing efforts.
Copy and pasting the same hashtags for every post sounds easy, but it will get you nowhere. There is nothing wrong with using a couple of the same tags on each post, especially if you are using your business name, city, or a brand name. However, using tags that are exactly the same on each post runs the risk of Instagram, Twitter, and other platforms flagging your content as spam. When this happens, it will not be shown to those outside your following, thus negating the reason to use hashtags in the first place. Remember, tags specific to each piece of content generate the best reach.
Follow and engage with hashtags to stay ahead of the curve.
Just like you should be trying to engage with new followers each day, you should try to engage with hashtags as well. When you start to follow and engage with hashtags, your daily engagement will increase. By following and monitoring the tags you regularly use and those related to your business, you can stay abreast of changes and news within your industry while also keeping an eye on your competition.
Using hashtags doesn't have to be difficult when you follow the simple guidelines written above. Cheers to increased engagement and interest in your content!